.
Head Skis are as American as apple pie and Apple. The name Head was not drummed up by a Don Draper type, but is the surname of Howard Head, the man most responsible for skiing breaking into the mainstream.
Over the past couple decades, the roots of Head as a purely American brand have been overshadowed by its global success. But with an entirely new management team, Head is reestablishing their American heritage with a continued eye on ski domination.
If the Dallas Cowboys are "America's Team" (even if Jerry Jones' boys have lacked any real success for a decade now), Head is "America's Ski Team." They are without question at the top of the ski racing game. How'd they get there? It's a patriotic ski piece and the story is Head Skis.
Kevin Kempin became the head Head man just 15 months ago. In the short span since, he has established a new management team that is building on the global success of Head and molding the next-gen of Head Skis to celebrate and embrace its American heritage.
"This is not your father's Head anymore," Kempin told The Ski Channel. "We've taken over design of the key ski collections for the U.S. Our heritage has influenced our every decision and will shine through these skis."
Yep it's cemented in the Head DNA. If your sport is two planks, then the one name is Howard Head. Before the twin tip revolution, there was the Revolution. The revolution from an impossibly difficult sport to one flying by the tipping point of popularity. Skiing today is because of what Howard Head thought of many yesterdays ago.
In 1947 Howard Head was an aircraft engineer and poker player. The former gave him the skills to figure out a better way to make skis. The latter allowed him to pay for his entrepreneurial dreams. If ESPN had been around back then, you'd know and admire Howard's poker skills.
Skiing BHH (Before Howard Head) wasn't all that fun. The skis were bulky, heavy, didn't turn well, and you had to be Hercules to operate them. Well, take something, make it better. A simple concept, but beyond complex in execution.
Head spent just a single winter changing the ski game forever. Huddled in a warehouse in downtown Baltimore, Head worked and reworked his new ski idea. The end results were way beyond the thinking rest. The first metal ski (aluminum, to be more precise) replete with steel edges. Top that Mike Douglas!
Every domino that his since fallen (AHH, After Howard Head), including condos lining the sides of ski resorts, can be traced back to Howard Head's ingenuity. The Hercules condo-buying market is not a sustainable biz model. But, Head's aluminum sandwich ski design opened the lift lines for all.
By the 1950s Head Skis had become the biggest ski manufacturer in the United States. Chest-thumping time.
Acquisitions and mergers, it's a Wall Street game. After Howard Head's retirement in 1969, the Head brand was traded around like a high-priced piece of art. Finally in 1995, Head was acquired by its current owner, an Austrian company. So, while Austria may be the Jerusalem of ski racing, it's surely a long way from downtown Baltimore. Wiener Schnitzel is not a pie, and you won't find any apples in it.
You are what you are, and Head's American DNA began shining its true colors by assembling the ultimate dream team of American ski royalty. Lindsey Vonn, Bode Miller, and Ted Ligety — a holy trinity of America's best racers. Yes, Head has become America's Ski Team.
Jon Rucker, Director of Sales and Marketing for Head, is part of the fresh blood, joining Head just 14 months ago. Already the product design coming for 2012 has taken a seismic shift. There's a new Motörhead-inspired ski, a big mountain ski with the graphic designer for Motörhead applying the art to ski. "We just wanted to come up with a ski that stands out in the market," said Rucker. "Yes, K2 has the Iron Maiden ski, but Motörhead would kick Iron Maiden's ass any day of the week."
There's also a women's ski that Head partnered with BMW Design Works USA on. "They're some of the most elegant, fashion-forward women's skis ever made. We previewed them and the response has been resoundingly positive."
So while Head marches toward a bigger place in the ski resort, its place on the race hill has already been cemented. Ben Drummond is the US Racing and Team Manager for Head. He's there on race day filling out the line-up card of America's Ski Team. Mr. Drummond submits this line-up card and commentary for Head's star-studded line-up: Bode Miller, Lindsey Vonn, Ted Ligety, and beyond the border talents Aksel Lund Svindal, Maria Riesch, and Jon Olsson.
Bode Miller: "He is one of the most brilliant ski racers ever. His has an amazing ability to manipulate his skiing using his equipment. Bode is always thinking of new ways to be faster every day. He's the grizzly veteran on the team, and everyone really looks up to him. He sets the example on how to train, how to work out."
Line-up spot: "He's hitting 3 or 4, it's a coin flip depending on where you are and what the hill is."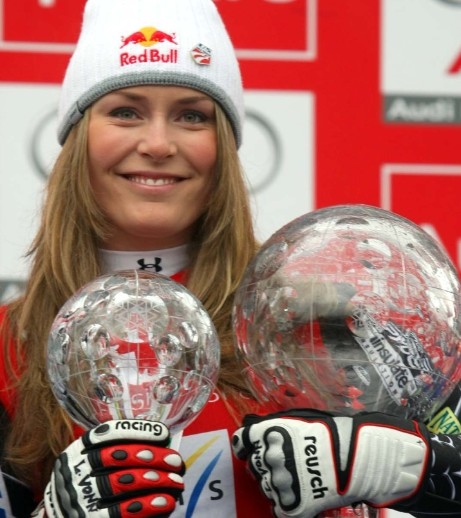 Lindsey Vonn: "She's pretty close to how the media portrays her. Really nice and really friendly, and extremely competitive. She just loves to talk to the media, let people know what she's doing, she's very open about her whole life pretty much."
Special rider item: "She needs to have contact with Thomas. She finds a lot of comfort having Thomas on the other side of the radio. He can say one word to her, and it puts her mind at ease, and she's ready to race."
Line-up spot: "You can hit her anywhere in the line-up. She can win a race with any bib number, and she'll always pull one out when you need her to."
Ted Ligety: "Ted's the character of the team, always making everyone laugh. He tells jokes that aren't really funny, but he laughs at his own jokes all the time. He's not afraid to tell anyone on the team what's on his mind. All these guys are obviously competitors, and when it comes to training Ted always wants to be the best. Some of the young guys want to be the fastest, but don't show it. Ted does."
Special rider item: "Our Head GS Ski. Ted can generate more angles than someone who's turning a jet ski. Angles are the key to power on the ski. And our GS ski is so amazing, so strong in handling those angles."
Line-up spot: "Lead-off man, he's always ready to step it up and throw it down. At Soelden, starting bib 1, brand new product set-up, everyone questioning his set-up, Ted kicked off the season on the right note."
Aksel Lund Svindal: "First year on Head, our big offseason signing. He's definitely one of the best skiers of this age, and will go down as one of the best of all time. He's young, so full of talent. He's not always skiing pretty, but he's always one of the fastest to the bottom. Kind of like Bode, it may not look like the right line coming down, but they're getting faster and faster. They can find the fall line and that's the most important part of going down hill."
Line-up spot: "He's hitting #3, the go-to guy. He could share a lead-off role, but to put him right in the middle is a good spot."
Maria Riesch: "She's definitely a power and a finesse athlete. Very tall and uses her leverage to her advantage. Very smooth and very quiet when she skis."
Special rider item: "Lindsey Vonn. Those two are best friends and there's a competitive feel on race day. Always training together, talking about lines, how they're going to ski. They like to have each other to count on for advice, or just general talking stuff."
line-up spot: "Put Maria in the two-hole. She's consistently doing well in all four events. The number two spot demands consistency in getting on base and not striking out. That's Maria."
Jon Olsson: "In all facets of the skiing world, how he can race, how he can do his freeride stuff, he's the best pure athlete, pure skier there has ever been. Tanner Hall said he could ski the Hahnnenkamm. I think Darron Rahlves put an end to that fantasy. Jon Olsson could however."
Special rider item: "Patience. It's all about patience. Every time you race, it's a progression. He's a hard worker so we don't have to worry about work ethic and concentration. This is not a publicity stunt. He's fired up about this."
line-up spot: "He's definitely hitting 7 or 8, because Didier Cuche would be hitting before him. The first couple times he raced, people were harassing him, seeing if he could handle the pressure. He can handle and that's why he's in the big leagues now."
Head skis, the superstars choose them, win on them, and America birthed them. It's a new era with new skis and a new management team. Howard Head, look what you started!