Location – 621 Kalamath St. Denver, Colorado

Wink Inc. and The Public Works have realized a dream of expansion that has finally come true. Wink Inc. was looking to expand to the Denver market, and The Public Works from Evergreen, Colorado, was the perfect partner to make it a reality. After purchasing the vacant building at 621 Kalamath, the work had not even begun. They had the vision, the building and now it was time to make it all come together.
One block from the Denver Santa Fe Art District and located on one of the busiest intersections in Denver, Battery621 gets instant attention. The location and building also serve as the "Gateway" with people passing Battery621 as they come into downtown Denver from the west and as they leave the city for the mountains and recreation—the true fusion of urban and mountain lifestyle and productivity.
Battery621 is more than a building; it is a living, breathing space. Comprised of 30,000 square feet on two levels, plus the upcoming 4,000 square foot roof deck,
the building boasts a progressive design that maximizes space usage and flexibility. A constant source of creativity and collaboration, the building functions as a premier place of business during the day and flexes into a truly unique event space after hours. After sitting vacant for five years, this prominent corner of Denver has been revitalized to be a high-visibility jewel for the creative and outdoor industries of Denver.
The companies and partners at Battery621 are more than just tenants; each of our resident companies is a true "Best in Breed" firm that represents the proper quality of service, creative standard and work ethic to be part of our community. This unique hand-picked mix of tenants has been formed to create synergies not only for the companies within, but for all of the stakeholders in Battery621. Under one roof, we are able to do everything from ideation of brand-building initiatives to full execution, ranging from television and video creation to product photography, fabrication and full international PR campaigns.
Battery621 is much more than a building; this "Creative Space Incubator" is an entirely new way of looking at business partnerships, social outreach, environmental sustainability and engaging clients with products and services. The Battery621 community looks at every vendor and client in a complete circle of thinking, from service provision to high-level brand strategy.
While they are proud of their tenant partners, they also understand this is merely the tip of the iceberg of pursuing our founding principal of 1+1=3. They remain focused on finding new partners and expanding our ability to create a working environment where the whole is greater than the sum of the parts.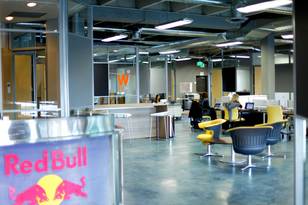 It's been a long and arduous process, but the end result has proven to be more than worth the hard work. Wink Inc.'s expanded facilities in Denver include seven edit suites with complete finishing and post facilities. As is still true in the Jackson, Wy studios, they are able to execute a production "soup to nuts," from conception, pitch and writing through field production and full post production in stunning High Definition, complete with color correction and 5.1 Surround Sound with DolbyE encoding.
In addition to providing additional edit capacity, the new facility has allowed us to increase the level of customer service and client interface. At any given moment, there are people in the conference rooms, brainstorming and creating; there are people working feverishly to meet deadlines; there are people having lunch in the kitchen; and there are also people socializing with new prospective clients in our lounge areas as they are enjoying a new level of creative inspiration that provides value and quality to all of our clients and partners, both existing and new.
As the dust settles, it is amazing to see the synergies and energy that have already come from relationships in the building. With partners such as The Public Works,
Spyder
, Something Independent, DrumBeat, Phenom Creative, Condor Cam, Artists Creative, 5280 Agency, Tom Van Ness Creative, CompanyBe, Jiberish, Icelantic, and a few creative agency guys to add to the mix, one must experience the energy in the building to believe it!